Honda Dealer Near Me
When searching for a "Honda dealer near me", look no further than Coconut Point Honda. We're proud to serve the communities of Estero, Fort Myers, and Cape Coral, Florida. Our team is dedicated to provide drivers from these areas with quality customer service and accurate information pertaining to all their Honda needs.

To best do so, we have many tools and resources available online that can help during the various stages of your journey with your Honda. One of these resources is our library of information about our different service areas.
Coconut Point Honda - Inventory and Service Center
At Coconut Point Honda, we have a behemoth of an inventory, with over 200 new Honda cars, trucks, and SUVs. We also carry dozens of used and certified pre-owned Honda vehicles.
Our relationship with our customers doesn't end once they drive off the lot. The service center at Coconut Point Honda is here for you throughout your vehicle's entire lifetime. Our team of expert automotive technicians is trained to perform all Honda maintenance, repairs, and replacements.
In the unfortunate event of an accident, your vehicle may require more extensive body work than the Coconut Point Honda service center can provide. Luckily, we'll send it to our state-of-the-art Automotive Collision and Repair Center. Before you know it, you'll be driving your Honda in pristine condition, like nothing ever happened.
Our Florida Service Areas
On this page, you'll find a comprehensive list of the communities we serve when you're looking for a Honda dealer near you. To view the information that's most pertinent to you, take the time to find your city. Then follow the link and read the article.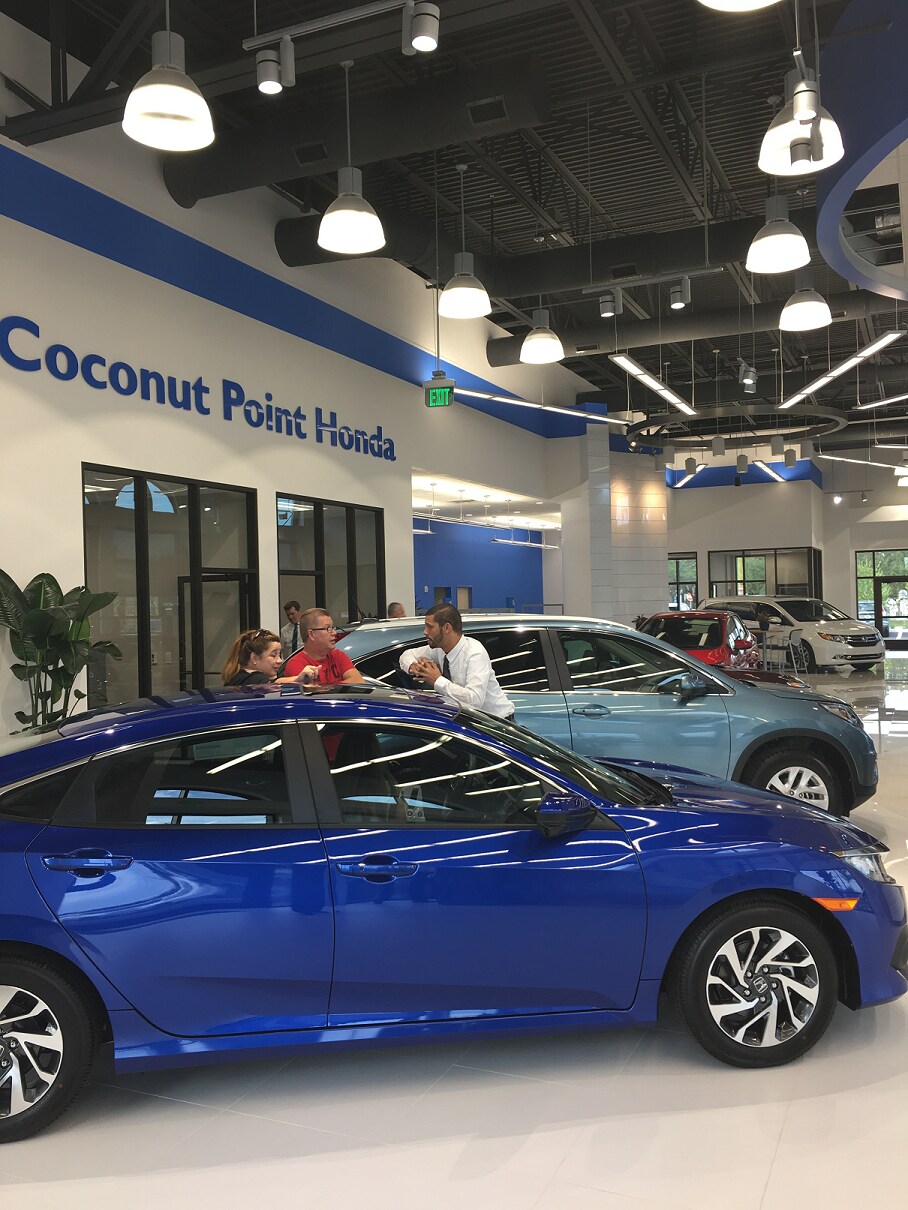 Each page will begin with a brief introduction that highlights the community, often drawing attention to its distinguishing characteristics, and any cool opportunities for entertainment or recreation. Then, it will introduce Coconut Point Honda, with an emphasis on our inventory and most helpful services.
Browse Our Service Area Pages
In addition to our index of service areas, you can find many other useful resources on our website. There are complete, searchable inventories for both new and used Hondas. There's also further information about our service center and collision center.
If you have any more questions, contact us at Coconut Point Honda to speak with a member of the team directly. If you're a resident of Estero, Fort Myers, Cape Coral, or surrounding regions, don't forget to browse our various service areas today.